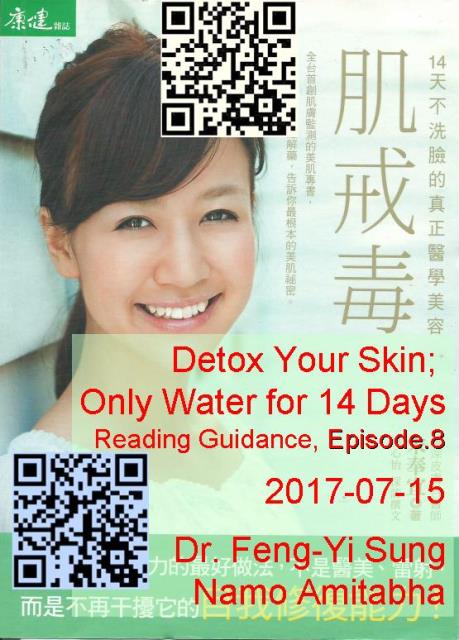 (Reading Guidance, Episode.8) Detox Your Skin; Only Water for 14 Days
(rosacea, seborrhea, sensitive skin, whitening and acne)
Youtube of this episode:
Youtube playlist of whole series (Mandarin pronunciation):
https://www.youtube.com/watch?v=DJ4NM_FrCQ4&list=PLhLBMWwiqfaVDx4v0L0nDPPn4r60l5sim
If you are in China:
http://blog.sina.com.cn/s/blog_6c2cbf740102x9l7.html
(English version by @羅嬌2016.9.6產品悶敷油敷; not audited yet)
Dear friends, Amitabha.
Today we're going to talk the eighth episode of the book "Detox Your Skin; Only Water for 14 Days."
I am not very satisfied with this part, which I recorded five or six times in total. Because it is not so easy to well explain the whole spirit. So I don't know if I'll record it successfully this time.
To talk about the second section of "Detox Your Skin; Only Water for 14 Days" is to talk about "skin care products can not only look at the ingredients table." At this time, in the first one to seven of this section, we have sketchily introduced most of "the skin detoxification's worries on skin care products."
Now we can introduce the second part.
Let me tell you, first of all, No.1, when the "effective ingredient" of the skin care products is mentioned, we come up with "should be effective" first.
"Should be effective" means, "Doctor Song, I want to tell you that, there are some stain and dark spots on my face , so I want to wipe the L-VC (Laevogyrate vitamin C), can I?" or "Doctor Song, I have pimples on my face, so I want to wipe retinoid acid, can I? "
I want to use another story to talk to you about this, and maybe you can understand it better. "Doctor Song, will I have diarrhea if I go to eat wonton noodles?"
So, well, the two of us went to the same supermarket and bought the same frozen wonton that was produced by the same factory.
Then I went home and cooked my wonton dumplings and you too. Next I use my noodles, you use your noodles; while our noodles are different, and our water is not the same either.
The way we cook is different - your food is spicy, and my food is light.
Your taste is better; While I'm a doctor and not very good at cooking.
Additionally you put the cabbage in, and I added the QingJiang vegetable......
First, for a person who does not like spicy food, or have no ability to eat spicy food, will he have diarrhea after eating your wonton noodles? It is possible.
For a people who love heavy taste, Is it difficult for him to swallow my wonton noodles? It's possible.
Do you understand?
In other words, when you talk about a skin care product, it's as if you're talking about wonton noodles or wonton soup; you can't just talk about "wonton".
You must also discuss its water, its salt, its seasoning, its vegetable, and its noodles; and even you have to discuss its temperature, its heat, and its treatment......
These are the things we need to discuss when we talk about the skin care products.
At this time, you tell me, "Doctor Song, I have acne. Can I wipe retinoid acid?"
First, is the concentration of your retinoid acid enough? The effect is not good if the concentration of your retinoid acid is not enough. Your skin will be injured if the concentration of it is too strong, .
Second, the appropriate retinoid acid to others; for a person whose skin is very oily and very powerful , may effect not well; but for a sensitive person, she may be injured after slightly wiping it.
So when you talk about skin care products; even if you're talking about drugs, you can't just look at ingredients; not to mention skin care products, OK?
That's the first point.
At second, we still talk about the skin care products. There's a story we've talked about before.
That's to say, you're talking "A acid" which we just said , now we talk about "AHAS(families of alpha hydroxyl acid)." When people talk about "active ingredients", they are usually said to be 3%, 4%, and 5%, as if "5% is better than 3%".
When you're using 3% acid or 6% acid, the erosion to the epidermis is 3% or 6%. But don't forget that after the erosion, 3% of the "97% something" will seep into it.
This (97%), of course, is mostly water. But if its preservatives and surfactants are powerful, maybe the infiltration is the interface agent!?
6% of it left 94% now. The premise of this (compared with the 3%), or the premise that they use the same brand, or the same level of surfactant. What if it isn't? You can't compare, right?
So, this is the first one that I planed to discuss with you.
That is, when you're talking about a single component, you should go back and think about "what other things look like "
Did you find that, you don't know anything about the skin care products, right?
Because it doesn't write so much on the incidents list.
I am very supportive of the government's requirement of "full ingredients labeling". But even if it's all labeled, it still didn't tell you the proportion.
Today we're going to tell you another story. That is, when you're talking about these ingredients, have you ever thought about the signs of the concentration on these ingredients, as we've just said?
Now we're going to tell you the second story.
If you go to the supermarket to buy a tank of water, and its ingredients are very simple, and I'm sure all of you know, "salt, sugar and water." But it's proportion probably three, that's what we wrote here:
It could be 99.99% salt +0.005% sugar +0.005% water.
It could be :
99.99% sugar, +0.005% salt, +0.005% water, too.
The former can be a salt jar, and the latter can be a sugar jar.
If it is:
99.9999% water + a little salt and a little sugar?
Unless you're an ant, I believe you absolutely can't drink it.
What does that tell you? If he doesn't give you the percentage, while telling you that salt and sugar and water, which is meaningless!
Is that understandable?
So, the second, if he doesn't tell you the exact component concentration, actually it (looking the ingredient list) doesn't make any sense.
The third one, what we're still talking about, is on the condition (assuming) that the manufacturer is very honest. But you don't forget, the manufacturers may be dishonest. This is the second one we're talking about.
Now we're going to discuss third, and some other stories, for example...... Just keep guessing, and next time I'll talk this matter.
But, in the end, I'll tell you something that we all know in the industry:
Some of the manufacturers, he was always claiming his main effect; but the results we monitored and found that it is likely to be the result of salicylic acid
Why I told this is not to blaming or praising this vendor. I just want to tell you, I let you drink orange juice, and then you feel very sweet; Is this "sweet" taste really from Liu Orange Juice? Or from "my added sugar"?
Okay, let's finish it today, and we'll record the ninth episodes later. Namo Amitabha.
我不反對使用保養品!我唯1的關心就是健康!因此我反對「盲目地使用保養品」、「盲目地執行醫學美容」
  根據科學邏輯,要確定保養品或治療的安全,應該在使用前、使用後都做紀錄;而且必須長期監測,反覆比對。
  使用前後比對,是為了證明短期安全。使用前與長期後比對,是為了證明長期安全。這就是呼籲建立「使用保養品/療程時,請隨時監測肌膚反應」的正確心態與為什麼護膚品「長期使用有危險」?=談「實驗室資料」與「長期追蹤PMS資料」的核心價值。
如果呆呆地相信單次監測的「證據」,就會出現「使用類固醇的褪紅效果很好,應該長期使用」這麼愚蠢的事!
  保養品與醫美治療長期使用、大量使用,對身體健康影響深遠。只有真正長期監測,才能確保長期劑量安全,真正保護皮膚與身體的健康!(「皮膚測試」、「皮膚檢測」與「皮膚監測」有什麼不同?=專業醫療論壇問題回答)
  如果您初次看到這個blog,發現「看不懂文章內容」。這是因為作者能力不足,文章悟道的順序不一。拜託您買本循序漸進的科普書籍(肌戒毒:14天不洗臉的真正醫學美容);也可以先看「肌戒毒」整體概念:電視專訪,然後聽聽錄音檔。理解真正真理之後您就會發現:
  因為醫美措施而敏感、痘痘,甚至酒糟/玫瑰痤瘡的可能性很大!
  因為錯誤保養品、雷射/激光療程產生黑斑是必然的!
  任何傷害出現的反黑、發炎、脫皮、粉刺與紅腫、刺癢……一定有改善!
正確實施並遵守肌膚監測的指導,就是您保護自己最重要的科學證據!如果您同意上述理念,想定期獲得真正的醫學美容與保養品訊息?
  網路會員註冊請按這理
  Google Feedburner RSS註冊請按這裡
極緻,只做對的事!為了幫助更多患者,極緻希望獲得高手們的分享。如果您對某種治療的醫學證據非常有把握,還請告訴我們。極緻會謹慎地評估,並協助建立相關肌膚監測原則。
至於買書……
補充閱讀:
  酒糟?玫瑰痤瘡?敏感?絕對改善,可望痊癒!=微博答客問2011073001
  !必看!肌膚監測,唯一的「醫學」美容!=新書的導讀文!必看!
  敏感/酒糟肌膚的自我療護——談「14天不洗臉」的自然醫學學理猜想
  科學地談「正確洗臉」=武漢大學「中外女性健康;美妝學院派」邀稿
  敏感性肌膚的產品使用問題=又乾、又油、又粉刺、又膿痘、又敏感、又發炎